Contact Chris at [email protected] to schedule a viewing or get more details.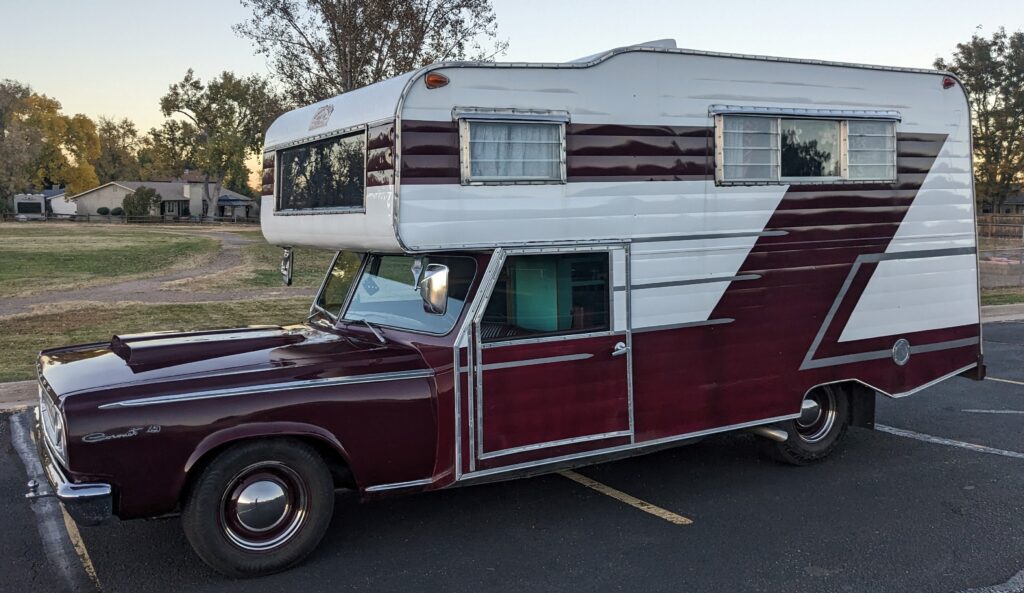 What is this? (The Great Dale House Car History)
The Great Dale House Car factory built somewhere between 50 and 60 Great Dale House Cars on Parker Road in Denver, CO in the 1960s. The founder, Dale Wasinger, said that he couldn't use the campers of the day because they were all based on trucks; which made it difficult for him to operate and use. He found a 1961 Cadillac with a crushed rear-end and tried to get another company to make a house car for him, but they were too busy… so he made his own. He followed it up with a 1962 Oldsmobile and created a pattern that all Great Dale House Cars would follow going forward. You can get more info about the Great Dale House car history at https://greatdalehousecar.com/welcome-to-the-great-dale-house-car-site/ or https://www.youtube.com/watch?v=Qs6tf8dKKEg
The 1966 Dodge Coronet Great Dale House Car History
Most Great Dale House Cars used a Cadillac or Oldsmobile chassis because they could handle the extra weight. However, Dale also invented a way to cut cars in half, so he could cut a car and truck in half and merge the two. The 1966 Dodge Coronet Great Dale House car was one of only three Dodge chassis known to be used and started its life on November 2, 1964 as a 1965 Dodge Coronet 440 Hardtop with:
Red metallic body and a white roof
361 cid engine
Automatic transmission
High grade trim
Cloth Vinyl seats
Heat/Defrost
Early Great Dale House Cars used the donor car serial number, but Colorado later forced them to reset the odometer and create a new serial number, and this Great Dale House Car is one of the last built.
We purchased it in 2012 with approximately 12,000 miles.
After the custom rear suspension was inspected and determined to be roadworthy by Denver Spring & Suspension, Inc., we set out to restore it. However, previous owners had made it impossible to restore properly, so we decided to renew it to Great Dale 2.0 instead. In broad strokes, we have:
Replaced and upgraded the complete powertrain, fuel system, brakes, steering, and front suspension.
Restored the 1965 Coronet exterior and interior.
Replaced all of the exterior camper aluminum panels.
Added modern RV conveniences including fresh and grey water tanks and system, toilet, 12V/120V fridge, water pump, and modern Olympia heater with quick-connect fittings.
Added a trailer electrical system including 120V shore power plugs, 120C inverter, 200AH LiFepo4 battery and inverter, DC-DC charger, and car battery charger.
Countless other upgrades.
Saved most of the receipts and organized them for reference and appraisals.
A history of the major changes from Great Dale 1.0 to 2.4 can be found at https://greatdalehousecar.com/1966-dodge-coronet-great-dale-house-car-history/.
House RV Features
The 1966 Dodge Coronet Great Dale House car can be considered a one-of-a-kind Class-C RV with the following RV options:
Driver's side entrance
120V/15A service connection for standard extension cord
12V Solar panel quick connection
Fresh water hookup with standard hose connection.
Fresh and grey water drains with standard garden hose connection
Two spare tires (Front and back tires are different)
Hitch receptacle re-enforced by Lampert Hitch for dingy towing and extra storage
Matching storage pod for extra storage
Blue Ox Hitch extension
Blue Ox three-bicycle Stand
Externally accessible storage area for propane and auxiliary equipment and tools.
Propane Tank
40-45 Gallon fuel tank
Ground effect lighting
Side Door with Bargman Lock and Deadbolt
Awning and poles (6'9″ x 8′)
Hard maple screen door
Double bed with memory foam mattress above driver sleeps two (Dining room cushions can be replaced to sleep two more)
Red Magic Chef stove and range
Sink with fresh water, 12V pump, or manual pump options
15-gallon fresh water tank
15-gallon grey water tank
12V 200Ah 300Ah LiFepo4 battery with inverter and DC/DC charger.
120V Xantrex 806-1206 Inverter, PROwatt SW 600W 12V True-Sine Inverter
12V car battery charger
Custom Spring and foam diner-style seats around dining room table
Wall-Mounted propane lantern
Interior LED Light strips
12VDC/120VAC 107.5 litre/28.4 gallon Dometic CR-1110 refrigerator
Camco Olympian Wave propane heater with quick connect connections
12VDC Fantastic roof fan
Camco Premium Portable Travel Toilet (41545) (Never Used)
Trailer plug for trailer/dinghy car towing
Exterior speaker connections for campsite music
Dimensions:

243″ (20′ 3″) long (308″ long with storage pod),
84.25″ (7′ 1/4″) wide,
101″ (8.42′) tall without vent,
105″ (8.75′) tall with vent,
111″ (9.25′) with removable vent cover

It weighed 6,300 lbs in 2013. It probably weighs in closer to 7,000 lbs today.
1965 Dodge Coronet Car Features
Of course, what makes this Great Dale House Car unique is the 1965 Dodge Coronet classic Mopar. We have added the following features over the years. All of these items were newly installed between 2012 and 2023:
New 489 Stroker engine (Just under 8,000 miles on the engine as of 2023)

CC Extreme Energy 268H Cam & Lifters (2016)
Edelbrock aluminum heads 84cc (2016)
Flowkool 18 vane waterpump (2016)
Petronix Flame Thrower III electronic ignition
Spare Mancini Racing Oil Pan
Edelbrock Performer 600cfm carburetor
3" TT1 400SR dual exhaust

Mancini Racing MREB1EP Poly-Loc Motor Mounts
Custom 40-45 gallon tank with 8 & 6AN fuel lines and Aeromotive X1 Series Carburetor Bypass 2-Port Regulator Seat: .313″ (2018)
Custom aluminum radiator (largest possible without modifications) with 2 stage small fans, 16" S-blade fan, and 3-Stage Radiator Entropy controller with manual override
1966 BB 727 Torqueflight and torque converter (2016) with Moroso Transmission Pan 42080
B&M 70264 Supercooler Automatic Transmission cooler
Gear vendor overdrive for ½ gears and overdrive (2016)
323 Rear differential (rear 8 ¾ axle housing was installed by previous owners sometime after 1969)
New Rear differential axles (2021)
New racing torsion bars (2022)
Borgeson Steering Box Conversion Master Kit includes modern steering box and new power steering pump (2022)
New Tires (front 2021)
New front brake lines (2021) & rear brake lines
11×2 ½" Rear Drum Brakes and Backing Plates (2021)
Front 1 3/8" Sway Bar
Power brake booster
Front Disk Brakes
Natural 713-8-47529 140A Chrysler Alternator
Cruise control
Entire car interior area restored by Auto Weave Upholstery
Shoulder belt support added
Power Windows
Center console with Auto Meter Gauges, JVC stereo w Bluetooth and USB inputs, charging controls and 12V plugs
Custom Polk Audio DXi690 6″x9″ Coaxial speaker housings
Dashboard chrome restored by Just Dashes
Added scoop and repainted with period-correct paint
Front bumper and trim re-chromed
All original front decals sourced, restored, and installed
Baby moon rims
Rear Camera (2023)
New Windshields (2023)
Here are some pictures:
Click here for Exterior pictures
Click here for interior pictures
Click here for undercarriage pictures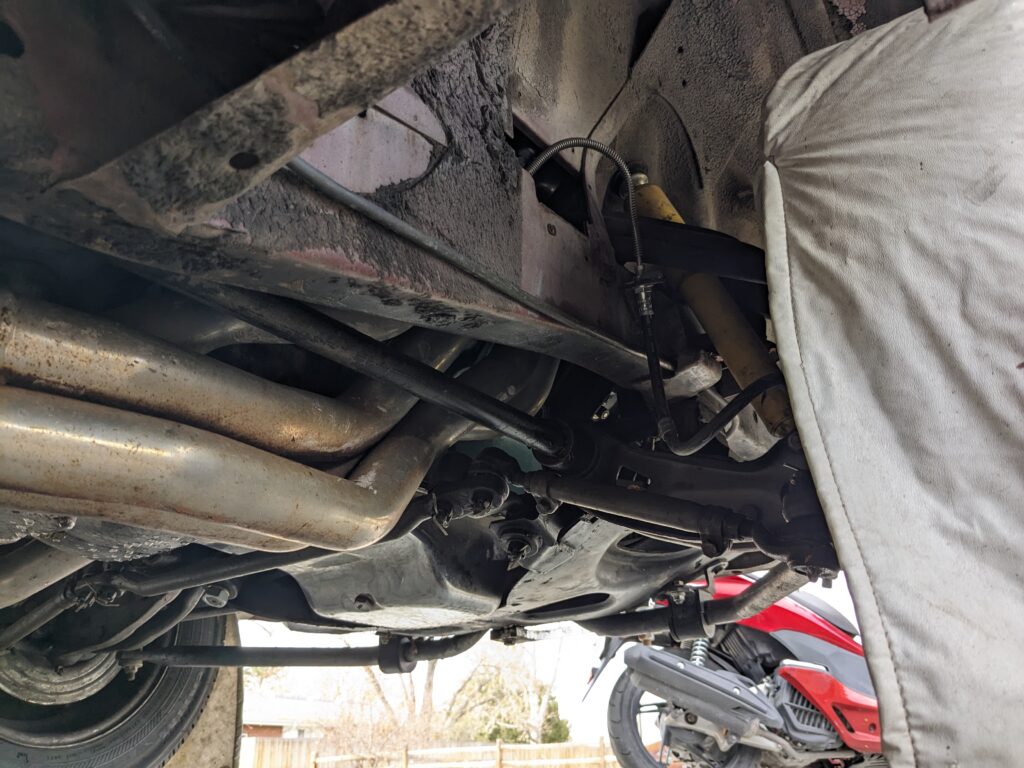 Click here for pictures of the LED lights at night:
There are LED strips mounted outside under the sides, and inside above the windshields and side windows. Here's what the Great Dale looks like at night: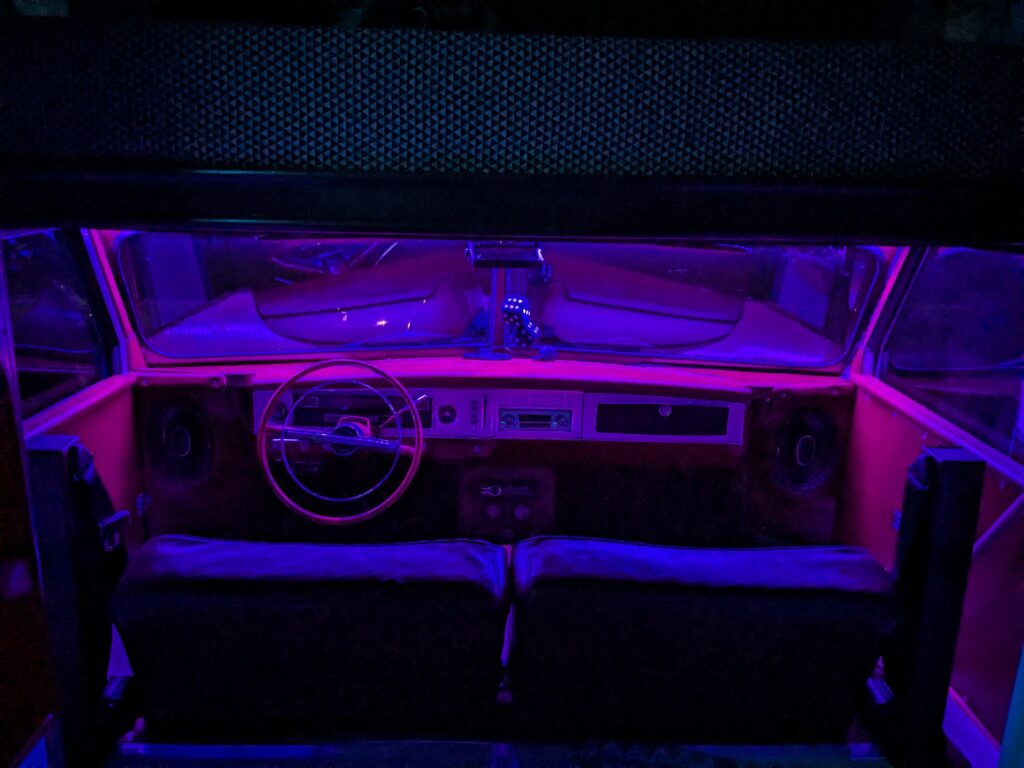 Click here for pictures and information about the matching storage pod:
The matching storage pod has a cover with the same colors, style, and siding as the RV body. Is is connected to the Great Dale hitch via hitch extension and riser extension for more clearance on steep hills and curbs. A three-bicycle rack is also included and is installed on the hitch extension.
The outside cover can be locked and is removed by lifting the cover straight up. The inside storage pod has a water resistant bag and can also be locked.
The outside cover is 52″ wide 31″ deep, and 27″ high. The cover hitch is 13″ long. The extension and riser adapters are 25″ long.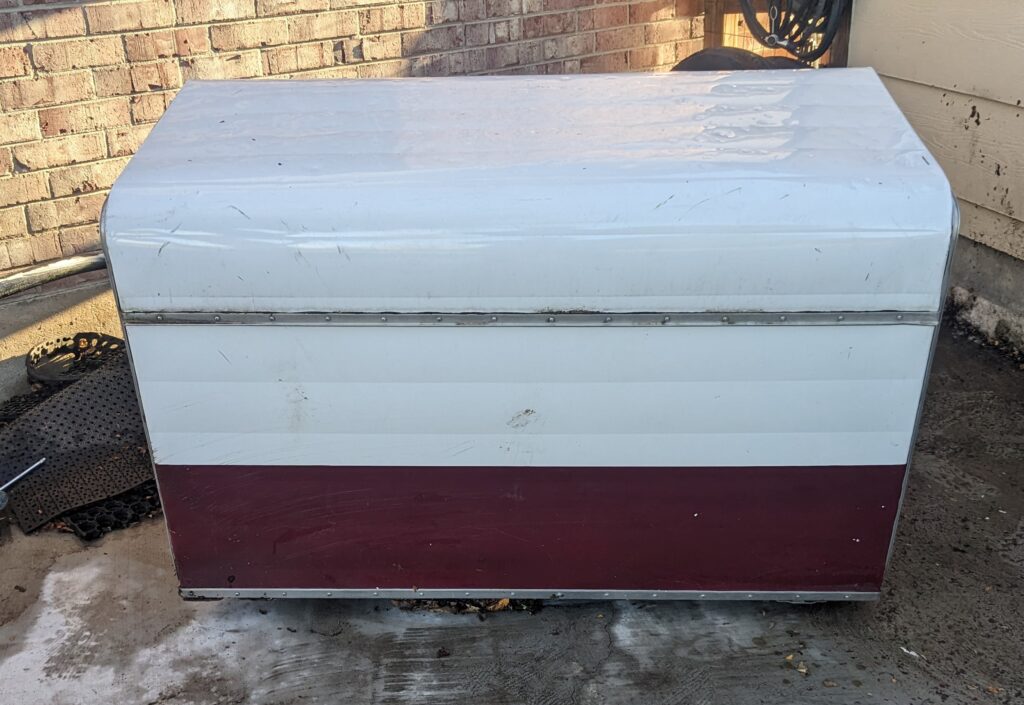 This is an old picture with the storage pod attached. The bicycle rack would fit between the Dale and storage pod.

Click here for pictures about the extra parts and accessories that are included in the sale:
The storage pod comes full of extra parts, accessories, and stuff for past and future projects; including some impossible to find parts: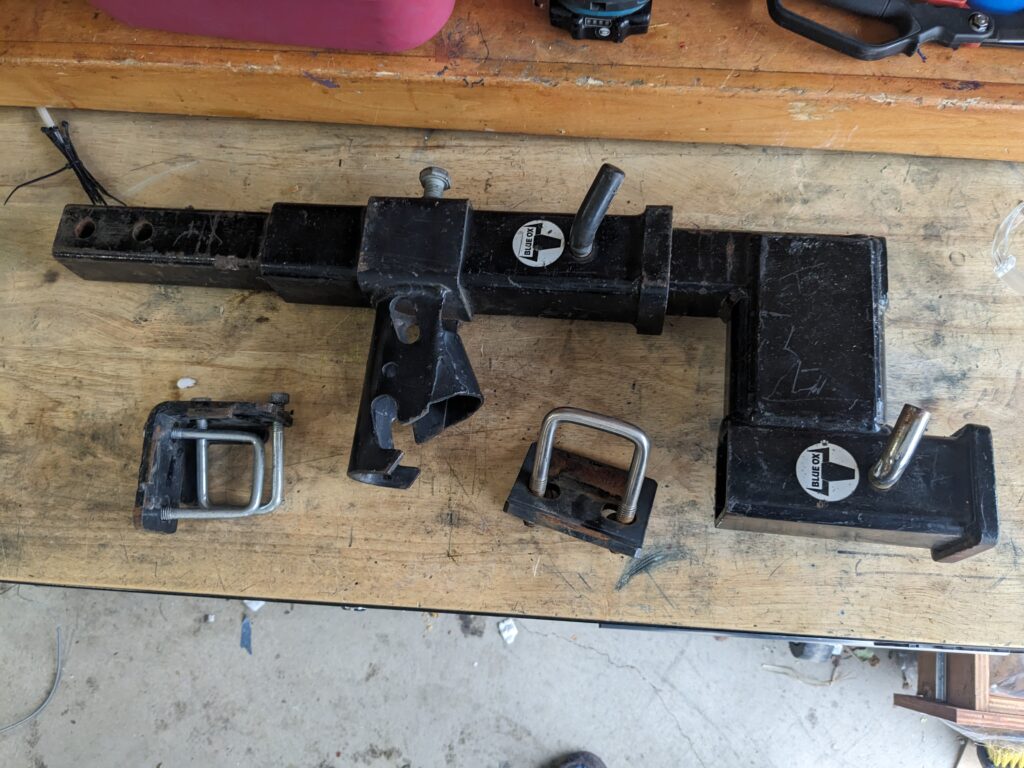 Click here for pictures and information about the Book of Dale, which includes an instruction manual, receipts, and manuals of the additions made over the years: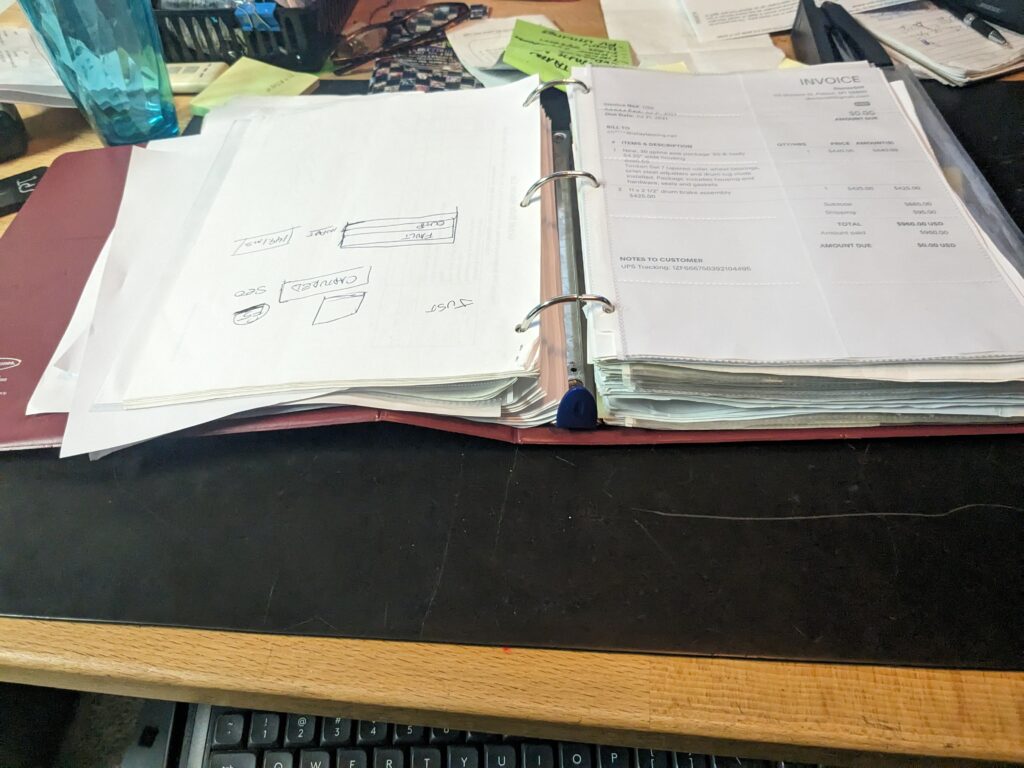 Here are some videos:
This is a video walkthrough of the outside:
Click here for more videos:
The Great Dale hit the track at the 2022 Pike's Peak Raceway's Rock N' Rumble. Here are some videos of the Great Dale on the track:
Here's a cold start in November in Littleton, CO
FAQ
Surprisingly well! The sway bars in the front made a huge difference. I am comfortable driving it up to 70 mph. The GPS said my maximum speed was 90+ mph, but the steering starts to get touchy greater than 75 mph.
I usually drive at 65mph on the highway and comfortably pass slowpokes.
The new steering box makes the steering feel like a modern car.
How Much Power Does a 489 Stroker Engine Get You?
We took it on the track at the Hot Rod Rock n' Rumble and it went from 0 – 68 mph in less than 13 seconds on the 1/8th mile track.
The gear vendor allows 1/2 gears and overdrive, so it's great up and down the mountains and adding fuel economy on the straightaways. I am usually passing cars over mountain passes in the Great Dale.
It easily pulled a Mini Cooper dinghy tow vehicle up and down the mountains. We once forgot to fully release the Mini's emergency brake and I just thought it was a little sluggish on the highway getting to 65mph…until someone flagged us down on the highway to tell us the Mini's brakes were smoking.
How Much Gas Does it Guzzle?
We usually get 7-10 mpg in the mountains, and 8-12 mpg on the plains. The 40+ gallon tank gives you about a 4-5 hour driving range at 65mph on the plains.
You Must Get a Lot of Looks!
Driving a one-of-a-kind vehicle can be a lot of fun!
People are constantly trying to take pictures of you on the road and you will get thumbs up wherever you go.
When you are parked, people will assume that you built it yourself and want to know how you did it.
When you go camping, you become the most popular people in the campground.
We've met so many wonderful people over the year thanks the the Great Dale House Car, some of which have become everlasting friendships.
In 2014, the exterior trailer panels were replaced, the car was stripped, and the entire house car was painted with enamel paint.
In 2017, the powertrain was replaced with a 489 stroker engine, a 1966 automatic transmission, and gear vendor for half gears.
After all of this work, it was officially appraised to be worth $45,000 in 2017:
Since then, we have:
Added spring bench seats to the dining area.
Added power windows.
Replaced the front calipers and pads, rear axles, rear drums and brakes, master cylinder, proportioning valve, and all brake lines except the one from front to rear.
Replaced the fuel tank, lines, and pump with a custom 40-45 gallon tank with 8 & 6AN fuel lines and Aeromotive X1 Series Carburetor Bypass 2-Port Regulator Seat.
Replaced and upsized the front torsion bars for higher clearance.
Upgraded the steering to a Borgeson modern steering box, new power steering pump, and power steering pump cooler.
Replaced the floors with vintage, period correct marmoleum.
New windshield on both sides.
Replaced the rear camera
The Great Dale was recently hit with a hailstorm that added some dings to the Car and dimpled the camper roof. We were originally going to repair all of the damage and bring it back to how it looked in 2014 (Great Dale 2.0), but we realized that we haven't used it very much since COVID and that it was being wasted.
We think it's time for someone else to take the wheel and enjoy it, and the attention it brings, to it's fullest.
We've added a lot of blood, sweat, tears, and money taking it from a barely running Great Dale 1.0 to a reliable and beautiful Great Dale 2.0. We could spend even more money restoring the exterior back to 2.0, but that would put the price out of reach for most people. It also feels like restoring it back to our vision would limit your options as you take it to the Great Dale 3.0.
We'd rather keep it affordable and let you make the Great Dale your own. All of the hail damage is purely cosmetic and you can use it as is, or you can customize it to your tastes instead of ours.
There are two local RV repair shops who are excited to work on it and we can share their quotes to bring the exterior back to Great Dale 2.0 with you if you wish to get an idea about how much it would cost for someone else to get the Great Dale 3.0 ready for the 2024 camping season for you.
We hope you will enjoy it as much as we have!
Contact Chris at [email protected] to schedule a viewing or get more details.
How do I get in touch with you?
You can contact Chris at [email protected] to own a literal one-of-a-kind vehicle, keep Colorado history alive, and become the most popular person on the road/campground!